Here's one of entries for our Valentine's Day Couples Contest!  Erin and Brendan are cosplaying as Hilde von Krone and Yoshimitsu from Soul Calibur IV. While neither of these cosplayers used our wigs (and we aren't quite sure if Yoshimitsu needs one) we have a perfect style for a Hilde von Krone cosplay! If you are looking to cosplay as Hilde von Krone we recommend our Nyx Wig in Dark Red! Look on to see some more about their cosplays!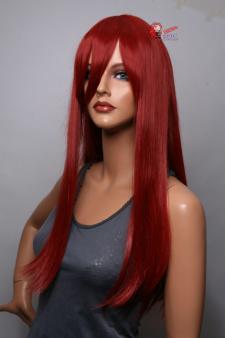 -What inspired you to do these cosplays?
We love cosplay so much! Summer 2012 was the 3rd year in a row that we and our closest friends got together and spent the entire summer on huge cosplay projects. We had done Bioshock and Warhammer 40k in prior years, so we wanted to do a series with a wide variety of options for each person that was more fantasy-leaning to mix it up from the sci-fi look of 40k. Each year, our goal is to out-do the year before with bigger, better costumes.
-What got you into cosplay?
Erin got into cosplaying nearly 11 years ago–as an artist, she loved the challenge of transforming character designs to real-life outfits. Once she got a real-live, adult job, she was able to buy the materials to build the huge suits of armor she'd always wanted to. Brendan, awesomely enough, started cosplaying because it was such a passion of hers (incidentally, we love costumes so much that we got married on Halloween this last year!). Now he's pretty well-entrenched in it, too.
-Why do you love cosplay?
So many reasons! It's a creative, dynamic hobby that allows you to finally be the badass you always thought you were. Our best friends are really into cosplay too so each year we have a huge group project that we work on together. It makes us feel accomplished and skilled, and it's so rewarding to finish the challenging projects that we love to tackle. Our next project is StarCraft space marines. Grueling? Yes. Worth it? Oh, hell, yes.