Here's one of the entries for our Valentine's Day Couples Contest!  Janis Hsing and Lauren Risher are cosplaying as Superma'am and Batma'am (original design concept by Kit n Silver) from the DC Comics.  Although Janis did not use a wig from EpicCosplay (and Batma'an's cape and cowl hide her hair), we recommend using our Dionysus Wig in Black (discontinued, may consider Theia in Black) for Superma'am. Read on to learn more about these cosplayers!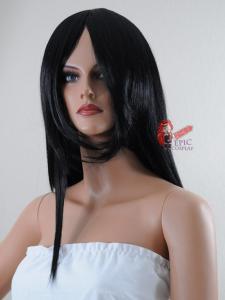 -What inspired you to do these cosplays?
I have always been a big fan of Superman and Lauren has always been a big fan of batman.  We were both afraid that we would not be able to pull off the actual superman and batman cosplay so when we found a beautiful Fem! design by Kit n' Silver, we were really happy and decided to do it immediately.
-What got you into cosplay?
Lauren and I first got into cosplay when one of our friends found the cosplay community through the internet.  Our group of friends in high school were all really into anime at the time and figured cosplaying sounds like a great hobby to get into.
-Why do you love cosplay?
Janis:" The reason why I love cosplay is that cosplay is all about expressing yourself and being proud of who you are.  It gives you a chance to express your love for a character.  On top of that, it also gives you the opportunity to show off your skills such as sewing, prop making, make up etc etc.  Most importantly, cosplay allowed me to meet so many wonderful people and strengthen existing friendship.  It's amazing to be able to be in costume and hanging out with a bunch of cool people."
Lauren:"my favorite part of cosplay is getting to see cosplay friends I never get to see.  I also enjoy making something I am able to wear and feel proud of having people take pictures