Here's one of entries for our Valentine's Day Couples Contest!  Jason and Michelle are cosplaying as Sailor Uranus and Sailor Neptune from Sailor Moon. Michelle is wearing our Hestia wig in Emerald Green! While Jason did not use one of our wigs this time around we recommend using a Chronos Wig in Rich Butterscotch and trimming it down for Amara's look! Look on to see some more about their cosplays!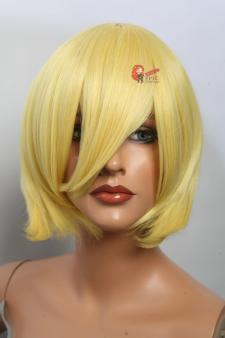 -What inspired you to do these cosplays?
Jason has been a huge Sailor Moon fan since it originally aired on Toonami. Since then, he's wanted to cosplay a character from Sailor Moon. One night when brainstorming his next cosplay, he noticed the similarities between Michelle and Sailor Neptune… and since he could pull off androgynous characters pretty well, they decided to go for it.
-What got you into cosplay?
The fact that you can dress up in costumes and be awesome all day appeals highly to a costumer.
-Why do you love cosplay?
The same reasons that got us into it… we can dress up in costumes and be awesome all day!!!
Photo Credit goes to Heather Amaral and was edited/Photoshopped, by Jason.