Here's an entry for our Valentine's Day Couples Contest!  We have Jay and Tony as Wonder Woman and Superman from DC Comics!  While neither of these cosplayers used our wigs we have some great styles that you can use to cosplay as either of these characters. For a Wonder Woman cosplay we recommend our Hestia Wig in Black. For a Superman cosplay we recommend our Hermes Wig in Black. Have a look at their cosplays and read up on some more about them!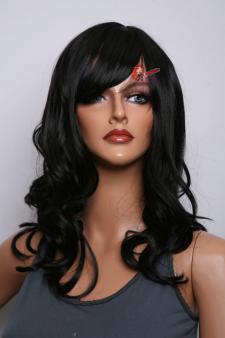 – What inspired you to do these cosplays?
We are both fans of DC Comics and love these characters and wanted to bring them to life.
– What got you into cosplay?
Jay- I've been attending comic cons for years, but a couple of years ago I was inspired to try cosplay by other cosplayers I saw having a great time dressing up as their favorite characters.  After attending a convention in costume, I don't think I'll ever be able to stop.  It's too much fun.
Tony- The chance to be someone I looked up to is what got me into cosplay.
– Why do you love cosplay?
Jay- I love being able to channel my creativity into something I can wear to comic cons & share with other fans.  I can't draw comics but I can make a costume that represents my love for comic books and my favorite characters.
Tony- I love being able to take different characters and become them and it's so much fun.