Here's one of the entries for our Valentine's Day Couples Contest!  Julia Trujillo and Ilerdon Ballinger are cosplaying as Jade Harley and Dave Strider from Homestuck.  Julia used our our Persephone Wig in Black for her Jade cosplay.  Although Ilerdon did not use an EpicCosplay wig, we recommend using our Aether Wig in Butterscotch Blonde! Read on to learn more about these cosplayers!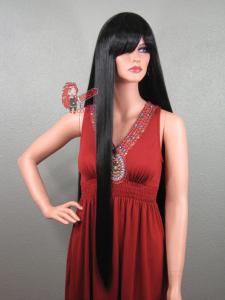 -What inspired you to do these cosplays?
We've always liked Homestuck, and we've always liked Dave and Jade. When we got together, I asked if he would be Dave for me, I was so thrilled when he said yes.
-What got you into cosplay?
I started cosplaying because of the internet, same goes for him.
-Why do you love cosplay?
I personally love cosplay because it expresses my individuality. I also like it because I have all of the wonderful friends I made throughout the years, and that is special. I also love it because without it, I wouldn't have met Ilerdon.
Photograph by SutaFuzz photography