Here's one of the entries for our Valentine's Day Couples Contest!  Katrina Miller(Rurounichan Cosplay) and Ryan Borden are cosplaying as Sebastian Michaelis and Grell Sutcliff from Kuroshitsuji.  Although neither cosplayer used a wig from EpicCosplay, we have some recommendations that would work well for each of those characters. For a Sebastian Michaelis cosplay we recommend styling our Chronos Wig in Black. For a Grell cosplay we recommend using our Persephone Wig in Dark Red! Read on to learn more about these cosplayers!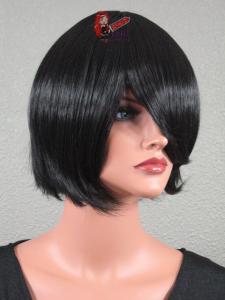 -What inspired you to do these cosplays?
When I watched the show, I instantly fell in love with Sebastian as did Ryan with Grell. When we were dating at the time, we decided to go all out and have Sebastian and Grell kiss for the first time. We may not be together anymore, but we still look forward doing a lot of Kuroshitsuji shenanigans together.
-What got you into cosplay?
When I first started going to conventions, I noticed A LOT of beautiful cosplays. They made me want to cosplay really bad.
-Why do you love cosplay?
I love getting in touch with the character I'm cosplaying. Makes me feel just like the character. I also love getting my photo take by many photographers. It's a great feeling when you see your picture on a photographers site.
Photograph is credited to Howell's Visions Photography.