Here's one of the entries for our Valentine's Day Couples Contest! Kayleigh and Casey are cosplaying as Roxas and Axel from Kingdom Hearts! While neither of these cosplayers used our wigs we have a few wigs that would be great to use to cosplay as either of these characters! For a Roxas cosplay we recommend our Apollo Wig in Autumn Gold. For an Axel cosplay we recommend using our Helios in Apple Red. Read on to learn more about their cosplays!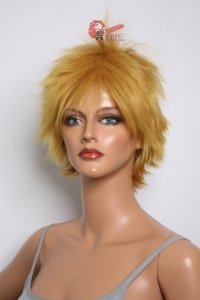 What inspired you to do these cosplays?
We were part of a panel show but I (Kayleigh) had always wanted to cosplay from Kingdom Hearts for many years and wouldn't because cons were in my opinion too over saturated with cosplayers from the series especially the characters I wanted to cosplay. Recently though that has died down a bit so I decided I could finally cosplay from my favorite game series of all time. Originally my goal was to cosplay Axel but we realized that my boyfriend (Casey) was more suited to Axel and therefore I ended up as Roxas which was fine by me.
What got you into cosplay? Kayleigh: For me is was my absolute love of anime. I was exposed when I was very little and have been a fan ever since and cosplay was just the next obvious step. I've been cosplaying since 2001 so it's been a while. I strive constantly to get better and better.
Casey: Cosplay is a way for me to be myself.
Why do you love cosplay?
Kayleigh: For me what cosplay is about is two fold and it's these two things that make me love it. Firstly, the creativity that drives the creation of a cosplay. From start to finish it's a creative and challenging process that I love, regardless of how difficult or easy the cosplay actually is. And secondly, cosplay is about doing what you love regardless of what others think and hoping that you find other people through your cosplay that love it as much as you do. Being in cosplay has helped me to meet lots of people I otherwise wouldn't have met simply because we shared similar interests and my life today wouldn't be the same without cosplay in my life. In fact without cosplaying giving me the confidence to just be my strange, semi-awkward self I wouldn't be where I am today. I've even gained enough confidence through cosplay to pursue being a performer and auditioning for roles with Walt Disney World (where I currently work in costuming).
Casey: I love it because without cosplay I would have never met my girlfriend.