Hey, we have an entry for our Valentine's Day Couples Contest!  We have Klarmen and Apple as Gaslight renditions of Mr. Freeze and Poison Ivy from Batman!  While these two cosplayers did not EpicCosplay wigs for their cosplays (and Mr. Freeze doesn't need one) we have a suggestion in case you're looking to cosplay this version of Poison Ivy! We would recommend our Hestia Wig in Dark Red as a base wig and use our 15″ weft extensions in Dark Red to sew in and curl to make the stacked curls on top. Read on to see more info on their cosplays and on themselves!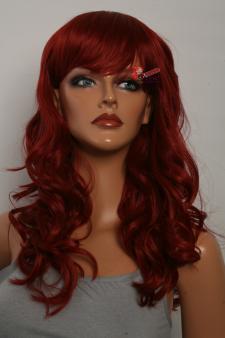 – What inspired you to do these cosplays?
We are both huge fans of our respective characters.  We had both seen many versions of them but not in Neo-Victorian/Steampunk style.
– What got you into cosplay?
We just found the subculture by photos and videos online and thought that it would be a great hobby that would combine many different artistic styles and techniques that we have had experience in to create something amazing.  We both started not knowing how to sew, but we quickly learned through trial and error.  Most of our "learned" abilities are through this, as well as Klaymen being classically trained in 3D Sculpting and Illustration.
Why do you love cosplay?  We love this subculture because it is a way we can pay homage to the amazing characters and artwork that people create.  We see making a costume as a token of our appreciation and love for a specific character, be it anime, video game or comic book.  We love to create things and challenege ourselves each step along the way to make these amazing works of art.  We also love the community that it attached to the culture, and how much of a family it has become to us over the past few years.
Also, we both made 100% of our costumes, including working barometers, lit pieces, a fully tooled and leather-worked cincher, and both pairs of shoes. The costumes took about 180 combined hours to complete and were put together in about 3 and a half months.