Here's one of the entries for our Valentine's Day Couples Contest! Le Nimbus Cloud and Jikan Tea are cosplaying as Yukio and Shiemi from Blue Exorcist. While neither of these cosplayers used our wigs we have some great styles for you to use in case you are looking to cosplay as either of these characters in the future! For a Yukio cosplay we recommend our Hermes Wig in Black. For a Shiemi cosplay we recommend our Aura Wig in Caramel Blonde. Read on to learn more about these cosplays!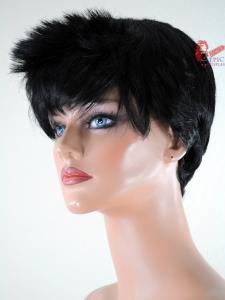 What inspired you to do these cosplays?
We both absolutely love the series, but we are also able to connect to the characters from it too. Even though we don't have the best pictures compared to everyone else in this event…These insanely blurry pictures commemorates are our OTP from Ao No Exorcists with the characters we love. YEAH. YUKIxSHIEMI. (LOL.)
What got you into cosplay?
Even though we both started cosplaying at different times… we love cosplaying because it challenges us to level up our craftsmanship skill (coughcough). We also agree it's fun especially when you have someone to do it with. It's a great way for us to spend even MORE time together and to connect. It's nice when you're able to share hobbies with people. > u<)/
Why do you love cosplay?
Being able to dress up as characters that inspire/connect with you! To be able to 'try' to recreate what characters in anime/manga/novels would look in real life. That's a pretty damn good reason to love cosplay. Plus, who doesn't like dressing up to be one super duper smart popular good looking guy and a low self esteem girl…(Jikan Tea: OTL).