Here is one of the entries for our Valentine's Day Couples Contest! Lenny and Niki are cosplaying as Saeko Busujima and Saya Takagi from Highschool of the Dead!  Both of these lovely cosplayers chose to use our wigs for their cosplays. Niki used our Athena Wig in Blue Black Fusion (discontinued. May consider Persephone) for her Saeko Busujima cosplay. Lenny used our Princess Dark Pink 30″ Straight Ponytail Set for her Saya Takagi cosplay!  Read on to learn more about these cosplayers!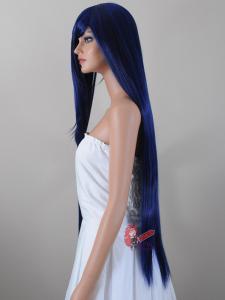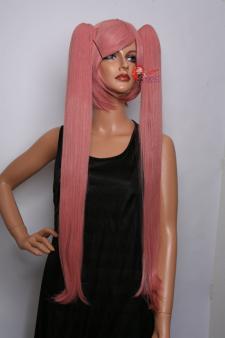 -What inspired you to do these cosplays?
lenny: i had watched the show and fell in love with seako so i knew i wanted to cosplay her but i didnt know if i would ever. Then niki and her bf were going to cosplay saya and kohta at a con that we were all going to so i asked join them in a group cosplay.
Niki: Saya Takagi is a great character, and much more than just a tsundere. Saya may come off as mean and un-caring with her condecsending attitude, but she cares deeply about her friends, and wants to survive alongside them and aid them however she can with her straight-A genius tactics.
-What got you into cosplay?
lenny: i got into cospaly because of niki. i had found it once before and then forgot all about it. it wasnt until niki had started a cosplay club at our school that i started cosplaying. one of my friends said that i should go and check out the club and i have been cosplaying ever sense.  i had always loved to dress up on halloween so cosplay is a perfect fit for me. : D
Niki: I've loved dressing up since I was a young girl, I've always loved Halloween and dressing up in costumes or just dressing up for any occasion.
-Why do you love cosplay?
lenny: i love to cospaly because thats when i truely feel like i fit in. it was always hard for me to find a place to fit in at school because i was always seen as a werid kid, but with cosplay i just feel like my self. Plus i love to make cloths, crafts, and i love to learn new things so in my opinion cosplay is the perfect hobbie for me.
Niki: Cosplay can bring any fantasy to life. With cosplay, a beautiful fictional character can be bought out of the pages of a book, brought out of a screen, and pulled into reality. I love that cosplay can be a spitting image, or even a unique interpretation of something that is being brought to life. It is my hobby and my passion.