Here's one of the entries for our Valentine's Day Couples Contest!  Mary Cahela and Meru Cosplay are cosplaying as Tamao and Nagisa from Strawberry Panic.  Although neither cosplayer used a wig from EpicCosplay, we have some recommendations that would work well for each of those characters. For a Tamao cosplay we recommend styling our Nyx Wig in Blue Black Fusion. For Nagisa, we recommend styling our Nyx Wig in Copper Red! Read on to learn more about these cosplayers!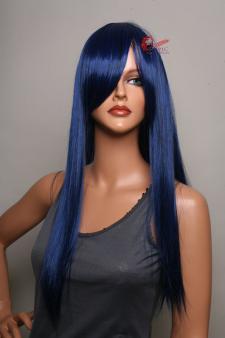 -What inspired you to do these cosplays?
Meru and I both love Strawberry Panic! She wanted to cosplay Nagisa and I choose her roommate Tamao for my cosplay. We made their spring uniforms because we thought they were cute and would be more comfortable in the southern heat than their winter uniforms.
-What got you into cosplay?
When I started going to conventions I noticed that all the cosplayers were having so much fun! I wanted to share in that experience.
-Why do you love cosplay?
It's a great creative outlet that lets you learn craftsmanship skills and share your love of the shows you cosplay from! And it's a lot of fun cosplaying with your friends!