Here's one of entries for our Valentine's Day Couples Contest!  Matt and Krissy are cosplaying as Kirito and Asuna from Sword Art Online.  While neither of these cosplayers used our wigs we have some great styles that are great for cosplaying as these characters! For a Kirito cosplay we recommend using our Hermes Wig in Black. For an Asuna cosplay we recommend using our Persephone Wig in Peach Blonde. Look on to see some more about their cosplays!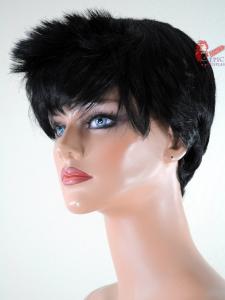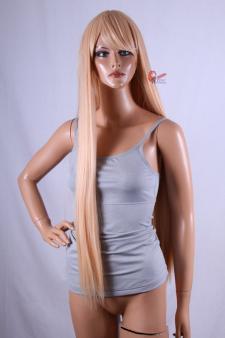 -What inspired you to do these cosplays?:
Within the first week of Sword Art Online airing, a friend came to us telling we should cosplay to the main characters. Upon looking at the designs and description of the series, we mutually began watching it, weekly. Before long, we were anticipating every episode, and becoming hooked. Matt related to Kirito in the sense that he feels he needs to protect his friends. I related to Asuna in the sense that, while on the outside I seem cold, once someone breaks that exterior, they are meant with a lot of warmth. We decided, upon watching the Alfheim arc, that the costumes were much more appealing to us in a design sense.
-What got you into cosplay?:
Matt: Halloween was my favorite holiday as a child, and the first Halloween costume I can remember with detail was the green power ranger, which my mom hand made, even making a wrap around paper mâché helmet. There was no other costume like it, and to this day, I still think that it was really cool.
Krissy: I wasn't as into Halloween as a child, and was for, like, 5 years in a row a cat. But when I hit my teenage years and anime and the internet became more accessible, I stumbled upon some girls dressed up as the characters from my favourite childhood show: Sailor Moon. The girls had taken pictures around town, dressed like the characters, goofing off, and it looked like so much fun. A couple of years later, an anime con started up in my city, and I knew that I wanted to have just as much fun as I had seen those girls have.
-Why do you love cosplay?:
Matt: I love cosplay because it's a worth while skill. Between just crafting costumes and props and actually wearing the costumes, cosplay has allowed me to meet so many amazing people, and make just as many friendships that I wouldn't trade for the world.
Krissy: Cosplaying through my awkward teenager years really helped me discover myself. Between feeling like a nerd and not having many friends in school, cosplay allowed me to meet people who accepted me. Not only accept me, but to relate to me and have fun with me. These people are truly my friends, who I cherish more than anything. It also helped me to accept who I am as I grew from an awkward teenager into a young adult.