Here's another exciting entry for our Valentine's day couples contest!  We have Melanie and Elicia as Ciel Phantomhive and Lizzy from Black Butler!  Elicia used our Curly Clipon Ponytail Set in Caramel Blonde for the Lizzy cosplay to help give a finishing touch! While these two have purchased one of our wigs to use for Ciel in the future since they did not use one of our wigs in the image they submitted, we recommend our Chronos Wig in Gunmetal Grey in case you are looking to cosplay as Ciel in the future! Read on to see more about their cosplays and their history of cosplaying!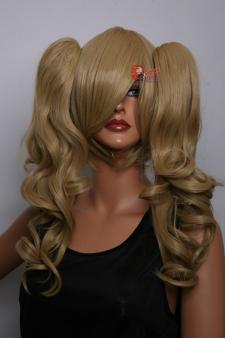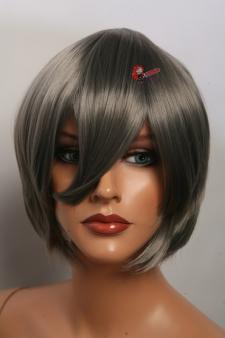 I have been cosplaying Ciel for a while now, partially because the contacts cost so much being hand painted, that I want to re use it as much as I can. He's got tons of great outfits too! And where there's a Ciel, a Lizzy pops up, So my friend cosplayed her for a while. We have the whole group actually… 😛
The main inspiration for cosplaying Black butler/Kuroshitsuji is DEFINITELY the Victorian aspects. I Love Victorian fashion, and the challenges construction involves. The series itself was great too, and its a favourite of many. For this photo, the main inspiration was Lizzy's dress. A lot of time and detail work went into making it accurate, and  even the small details on Ciel's outfit as plain as it is, were actually challenging. I had to make the plaid fabric the right plaid by adding the white lines, and search out the correct buttons. I drafted the pattern from scratch as it didn't exist.
I got into cosplay about 11 years ago because My sister introduced me to the world of sci fi and conventions, where I learned about anime.Sailor moon being a Favourite growing up, it was kind of fate. I went with her to art shows at local cons, and I LOVED dressing up.  I honed in on my own sewing skills when I was 14 and since then I have been loving cosplay. I love creating outfits and completing groups. It feels so good to see your finished works parading around together to make something come alive. <3 Cosplay!