Here's one of the entries for our Valentine's Day Couples Contest!  Mimiako and Jolitagirl are cosplaying as Marceline and Princess Bubblegum from Adventure Time: Sweater Time!  Jolitagirl used our Hera Wig in Princess Dark Pink for her  Princess Bubblegum cosplay! Although no EpicCosplay wig was used for Marceline, we would recommend using our Asteria Wig in Black.  Read on to learn more about these cosplayers!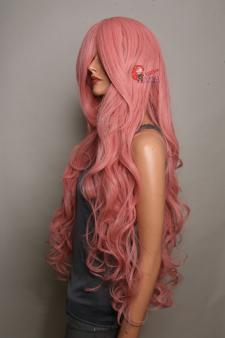 -What inspired you to do these cosplays?
I was going through a hard time in my life and I started watching Adventure Time with my friends more often. I really related to Marceline because of my own personal family issue going on. My grandfather was diagnosed with Brain Cancer, and was slowly slipping away and loosing his memories. It was really hard on me, but I related to Marceline a lot with how strong she was through loosing the Ice King. The "I Remember You" episode aired around the same time things were going south in the situation, and it hit home. I was having a really hard time working on cosplays since he was my main support in my hobby and I was getting depressed. My friends and I got together and did a Sweater Time photoshoot (since it was so cold outside) to cheer me up and get my mind off of it. My Princess Bubblegum is my absolute best friend, and she was my shoulder to cry on often. I love her very much, and we love the pairing too!
-What got you into cosplay?
I (Mimiako) loved anime and video games growing up, and I saw cosplay on a old show called "X-Play." I got really anxious and wanted to do it so bad! The rest is history really from there. Jo eventually started attending a few conventions long ago with me, and grew to fall in love with cosplaying since people are so accepting and loving in cosplaying.
-Why do you love cosplay?
We love cosplay because we can express ourselves through our costumes and creativity, and the community is so fun and accepting. We love sewing and playing around as our favorite characters. We have met so many of our friends throughout the past years through cosplaying too, so cosplaying is something very close to our hearts.
Marceline: facebook.com/mimiakocosplay
Princess Bubblegum: jolitagirl.tumblr.com
Photographer: Jeremy Johnson