Here's one of the entries for our Valentine's Day Couples Contest! Naomi and Matthew are cosplaying as Black Widow and Hawkeye from Marvel's Avengers! While neither of these cosplayers used our wigs we have some great recommendations for wigs to use in case you are looking to cosplay as either of these characters in the future. For a Black Widow cosplay we recommend our Diana Wig in Dark Red(discontinued, replaced by Aries style). For an Hawkeye cosplay we recommend our Hermes Wig in Light Brown. Read on to learn more about these cosplays!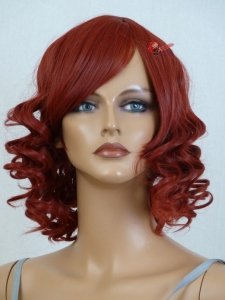 What inspired you to do these cosplays?
Naomi: "Well from what I can remember, my boyfriend said he wanted cosplay someone from the avengers movie when it came out
and he said that he sorta fit Hawkeye. He researched into the character and he did it! As for myself, Matt and I met at AX 2012, when
I was cosplaying the Mighty Thor. After AX, we started getting to know each other out of cosplay. Then the man of arrows shot me with love.
In October, I wanted to cosplay Black Widow for Halloween/Surprise cosplay for my BF. So.. thats how we were inspired into cosplaying Hawkeye and Black Widow."
What got you into cosplay?
I think both of us we liked anime, video games, and etc. We both did not know about it till internet introduced it to us! XD
Why do you love cosplay?
Both of us, love cosplay because it is really fun dressing up as your favorite characters and the people who make up the cosplay community!