Here we have another entry for our Valentine's Day Couples Contest!  This time we have Nick & Danielle as Miria Harvent and Isaac Diana from the anime Baccano!  Danielle used our Dionysus Wig in Natural Blonde (replaced by Theia) for her cosplay!  While Nick did not use one of our wigs for his Issac cosplay, we would recommend taking a Chronos Wig in Ash Blonde  and styling it to get the look you need! Read on to find our more about Nick & Danielle and their cosplaying!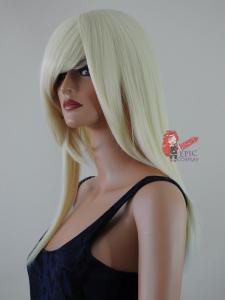 Photo credit Anna Z -taken with Danielle's phone.
– What inspired you to do these cosplays?
My boyfriend and I watched the series together, and both of us are kind of goofball when we're together, much like Miria and Isaac.  I thought I could easily make her dress.  There were several costumes to pick from for the two, but we decided on the outfit they wear for most of the series, though Nick argued very hard for the version of them where Isaac is wearing a giant afro.  I tend to be the planner.  I asked Nick "Wanna do it?" and he said "Sure!" I ended up sewing my dress and his vest, and the rest of our outfit is thrift store or scavenged.
– What got you into cosplay?
I got into them from my first convention and seeing some of the amazing work other cosplayers have done.  It's a great way to start making friends when you realize you share a love for a series.  And it's great when someone recognizes your work and asks for photos or compliments it.
Nick got more into it when he met me.  He had mentioned wanting to do certain cosplays, like Kefka from Final Fantasy, but never really would make costumes on his own.  Now it's something we do together, planning cons and making the outfits and props.  I hope to help him make Kefka a reality some day.
– Why do you love cosplay?
We enjoy sewing and crafting, so making costumes is something that is right up my alley.  I, Danielle, used to do theater as well, so I have a small passion for creating costumes.  I've always been drawn to hobbies that allow me to dress up and pretend to be someone else for a day.  nick and I met in the Society for Creative Anachronism, which is an example of that, and where I finally started picking up sewing skills.  We have teamed up on several sewing projects for that and conventions.