Here's one of the entries for our Valentine's Day Couples Contest!  Olivine and Yuki-chan are cosplaying as Ch.1 Kyo Sohma and Tohru Honda from Fruits Basket.  Although neither cosplayer used a wig from EpicCosplay, we have some recommendations that would work well for each of those characters. For a Kyo cosplay we recommend using our Hermes Wig in Autumn Orange. For a Tohru cosplay we recommend using our Persephone Wig in Walnut Brown (discontinued)! Read on to learn more about these cosplayers!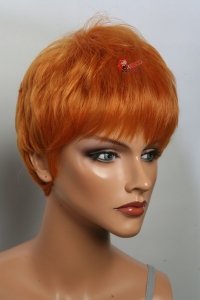 -What inspired you to do these cosplays?
Fruits Basket is such an emotional anime, we both loved the anime and manga so we decided to do one of our favorite pairings from the series to a local convention.
-What got you into cosplay?
FanimeCon, mainly. Just attending and seeing everyone else do it inspired us to start. Yuki-chan started a lot earlier than Olivine did, though.
-Why do you love cosplay?
Cosplay is an amazing way to express yourself, you meet a lot of fun and interesting people by doing it. Plus it's so awesome to be able to bring a character to life.
Photograph is credited to WolfTale Photography.