Here's one of the entries for our Valentine's Day Couples Contest!  Silverxplayer and Ellome are cosplaying as Hungary (Elizabeta Hedervary) and Austria (Roderich Edelstein) from Hetalia.  Although neither cosplayer used a wig from EpicCosplay, we have some recommendations that would work well for each of those characters. For an Elizabeta cosplay we recommend using our Nyx in Ash Blonde. For Roderich, we recommend styling our Aether Wig in Light Brown! Read on to learn more about these cosplayers!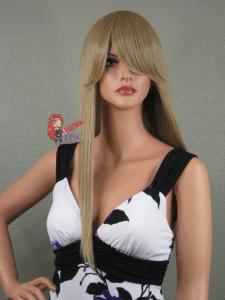 -What inspired you to do these cosplays?
Hetalia is such a diverse series and these characters in particular are so adorable together. Their story is so sweet. They're together for a little bit by treaty, and then it's no longer needed and they're "separated" – kind of. But Hungary always has Austria's back and defends him to the end. I think there will always be this affection between them, but they'll never be "together" again.
As for the cosplays themselves, silverxplayer had already made the Austria cosplay and after she had made the Hungary cosplay for herself, Ellome had asked to borrow Austria for a super baby-con called ASAHi Con. We figured that since this was a great chance that probably wouldn't be available for a while, we wanted to take the opportunity to get this photo shoot and play around a little bit.
-What got you into cosplay?
Silverxplayer: Friends in high school really got me into cosplay and conventions. But apparently I had started when I was 12 though when I was dressing up as anime characters for Halloween, but just didn't realize it!
Ellome: I had for years known friends who cosplayed, and it sounded really interesting! So for my first convention, I commissioned a stranger on the internet to make a costume and never looked back!
-Why do you love cosplay?
Silverxplayer: I love cosplaying for a couple reasons. First off – the people. There is such a range of people who are so brilliant and diverse, it's phenomenal. And there's always something new to learn, ways to get better, and new characters to do. And from this "hobby", I've grown a passion for sewing and crafting. It's such an amazing feeling to know someone appreciates your work.
Ellome: I love cosplay mostly for the people I've met through it, friends I've had for years now and hope to always have! There's a distinct good feeling in being able to craft something and to be proud of your own handiwork.