Here's one of entries for our Valentine's Day Couples Contest! Stevie and Frank cosplayed as Harley Quinn and Joker from the DC Universe. Neither of these cosplayers used our wigs for these cosplays! While this particular version of Harley Quinn does not require a wig we recommend that you use our Theia Wig in Oscar Green Or Tea Green and curl and style it to work for a Joker cosplay! Learn more about their cosplays in the section below!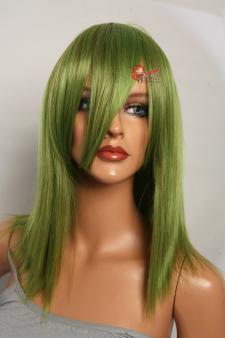 What inspired you to do these cosplays?
Our love for Batman and comics! Stevie: I've always loved Harley Quinn and her character design from the very beginning and she has such fun and comical props I get to make and it's fun to act silly and clown around at cons. Frank: I loved Batman and started getting into comics around the time of Anime Boston 2011, and in trying to figure out a costume to wear, I decided to go with Joker because he's such a fun guy! 😉
What got you into cosplay?
We both enjoy bringing our favorite characters to life to the best of our ability. Stevie: I got into cosplay about 4 years ago after seeing videos on youtube of other cosplayers just having fun and enjoying themselves so I went online and found a few cons near me and threw together a few quick closet cosplays. I've been challenging myself ever since to improve my skill level and learning new costuming techniques. Frank:
Seeing all the other people in costume at a convention. Also, my friend talked me into it originally. The Joker was my 2nd real cosplay for my 3rd con (I did AB once a year until recently going to more cons annually).
Why do you love cosplay?
Stevie: I love cosplaying because I've met so many friends that I otherwise would of never had the chance to meet. Cosplaying really brings people together. Frank: I love cosplaying because of all the cool people I have met, people that have become close friends of mine, and people I get to meet every convention (cosplay or no cosplay). The costumes I wear create a bridge between myself and the enjoyment other people get out of the character, whether it's because they like the costume or they loved the show/game/comic the character was from, which allows us to connect on a different level than just meeting someone out of costume.