Here's one of the entries for our Valentine's Day Couples Contest!  Teresa and Cris are cosplaying as Rapunzel and Flynn Rider from Tangled.  While neither of these cosplayers used our wigs for these cosplays we do have a few suggestions for you to use in case you are looking to cosplay as either of these characters in the future! For a Rapunzel cosplay we recommend styling our Asteria Wig in Caramel Blonde. For a Flynn cosplay we recommend our Hermes Wig in Dark Brown. Read on to learn more about these cosplays!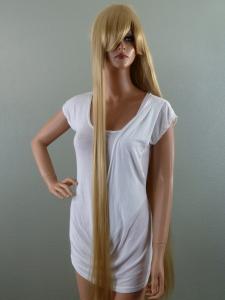 -What inspired you to do these cosplays?
My boyfriend and I met at a photoshoot at Anime Matsuri in Houston, where we were cosplaying a couple from the same anime, Baccano! We were both immediately attracted to each other, but we were both too shy to say anything. I had just seen Tangled a few months before, and I was getting ready to do a Rapunzel cosplay, and Cris quickly volunteered to be Flynn with me. We got to know each other and grew closer through our Tangled cosplays, including lots of awkward photoshoots and people assuming we were dating. We finally started officially dating a few months later. Our Tangled cosplays are very special to us, partially because we both look and act so much like the characters normally and because of its role in our relationship. We've actually cosplayed all three of their outfits-the normal ones here, the outfits from the very end of the movie and the wedding outfits from Tangled Ever After.
-What got you into cosplay?
I started cosplaying 6 years ago just because it looked like fun and I wanted to try my hand at sewing.
-Why do you love cosplay?
Cosplay presents such wonderful opportunities to meet people and make friends. I've met so many amazing people through my costumes, and those relationships mean so much to me.