Here's another entry for our Valentine's Day Couples Contest!  We have Patricia and Jean as Sango and Miroku from the Inuyasha series!  While neither of these cosplayers used our wigs we have some great recommendations for styles to use in case you are looking to cosplay as either of these characters. For a Sango cosplay we recommend our Nyx Wig in Black for her normal outfit or combining our Selene Wig in Black and our 35″ Clipon Ponytail in Black for her demon hunter outfit. For a Miroku cosplay we recommend using our Apollo Wig in Black. Have a look at their cosplays and read on to learn more about these two!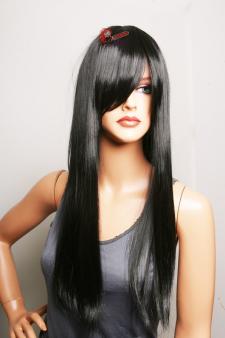 – What inspired you to do these cosplays?
Love the anime and especially love the character, who has a genius similar to mine.
– What got you into cosplay?
I started cosplaying both to honor my favorite character as for fun.  I love making props and clothes and see all the final products.
– Why do you love cosplay?
Because I can be my favorite character for one (or more) days.  It's like a tribute to him.  And I live it very much to take pictures and see people admiring me saying that my characterization is equal to the real character.  🙂