We have another entry for our Valentine's Day Couples Contest!  Here is Santi and Kolton as a genderbent Luigi and Daisy form the Super Mario Bros series! While neither of these cosplayers used our wigs we have some great recommendations for styles in case you are looking to cosplay as either of these characters in the future. For a Luigi cosplay we recommend our Hermes Wig in Light Brown. For a Daisy cosplay we recommend our Theia Wig in Autumn Orange. Keep reading on to look at their cosplays and read up on their cosplay habits!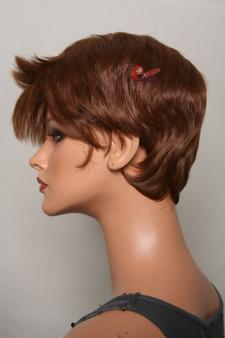 – What inspired you to do these cosplays?
We love Super Mario Bros.! I in particular love Luigi. My boyfriend thought it would be great to cosplay the Mario Bros. characters but genderbent! We have a whole group including Mario, Peach, Bowser, and Wario!
– What got you into cosplay?
I like a lot of anime so I went to anime expo when I was a kid. I love dressing in costume, so seeing that there were other times of the year besides Halloween I could do it was so exciting to me. I am really lucky to have a lot of friends who do it with me, and that keeps me motivated to continue cosplaying.
– Why do you love cosplay?
I love cosplay for many reasons. I love cartoons, and video games, especially the characters, so being able to represent them is really fun! I have a lot of friends who do it so it is a great bonding expreience. It also is something I put a lot of time and work into, purely for my own satisfaction and fun and that means a lot to me!