Here's one of the entries for our Valentine's Day Theme Contest!  Britty cosplaying as Hobo Clown from The Devil's Carnival.  Although she is not using a wig from EpicCosplay, we would work recommend trying our Hermes Wig in Dark Brown for a Hobo Clown cosplay.  Read on to learn more about this cosplayer!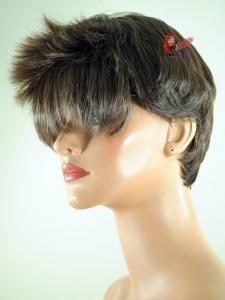 -What inspired you to do these cosplay?
I am a huge fan of TDC and like taking every opportunity I can to help spread knowledge of Episode One and beyond! Hobo Clown has a song in Episode One called "Penny for a Tale"– instead of Pennies, I offer <3, hearts, and love!!
-What got you into cosplay?
I got into cosplay because I went to my first convention and thought that it just made sense to have a costume, or that it was the thing to do, or you would be weird. I also admired other people's cosplay that I had seen in the past, so I was interested in trying my hand at it.
-Why do you love cosplay?
I love cosplay because it enables you to meet people, admire others' work, learn a ton about yourself and creation techniques… Everything about cosplay is wonderful. The only thing I don't love is that it's not always a financial possibility to embark on.