We have another delightful entry for our Valentine's Day Theme Contest!  Here we have Monique cosplaying as Flame Princess from the series Adventure Time!  For a hair style similar to what Monique is wearing in the picture we recommend our Aphrodite Wig in Autumn Orange! Take a look at her cosplay and read more about her cosplay background!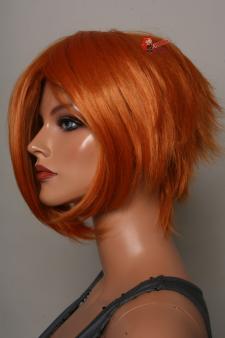 – What inspired you to do this cosplay?
The fire in my heart!  No, just kidding, I really love Adventure Time and Flame Princess is totally rocking!
– What got you into cosplay?
Attending Anime Boston 2008 inspired me to cosplay, and my friends did as well.
– Why do you love cosplay?
I love cosplay because you get to be someone else for a day, and you get to hang out with tons of cool new people who are pretty open-minded.