Here's an entry for our Valentine's Day Theme Contest!  We have Caroll as Alice Margatroid from the Touhou Project series!  She used our Aura Wig in Butterscotch Blonde to help enhance her cosplay! Read on to see more about her entry!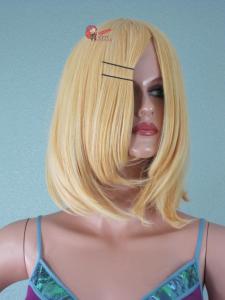 Your name:  Caroll
Series that you are cosplaying from:  Touhou Project
Character you are cosplaying as:  Alice Margatroid
Did you use an EpicCosplay wig? If so, what style?  Yes!  I used a 15″ short butterscotch blonde wig.  (This one:  https://blog.epiccosplay.com/15-butterscotch-blonde-short-cosplay-wig.html )
What inspired you to do these cosplay?  I love Touhou Project.  The games are a lotof fun and I really like how the music has inspired so many fan-remixes, videos, etc.  Out of the hundreds of characters from the series, Alice is by far my favorite; she has the best theme music and remixes, attack patterns, fan-made personality, and character design.  Since she is seen as a lonely character, I thought it would be fun to do a Valentine's photoshoot where she makes chocolates to make some friends!
What got you into cosplay?  Seeing the fantastic pictures and videos of other cosplayers online.
Why do you love cosplay?  Everyone looks like they're having fun and I am also attracted to the creative and problem-solving aspects of construction.  Plus, it is a great way to make new friends and show your love for the characters that the makers of games/anime/etc. put so much effort into creating.  Overall, cosplay is an excellent way to connect all sorts of people.