Hey, we have an entry for our Valentine's Day Theme Photo Contest!  We have NovaRaven as Lord Gunter VonKliest from the series Kyou Kara Maoh!  She used our Athene Wig in Ice Purple (replaced by Persephone) for her cosplay!  Read on to see more about herself and her cosplay!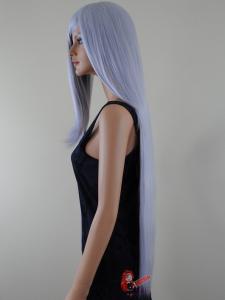 Your name: NovaRaven
Series that you are cosplaying from: Kyou Karah Maoh
Character you are cosplaying as: Lord Gunter VonKliest
Did you use an EpicCosplay wig? If so, what style?
– Yes, Athena in Ice Purple
What inspired you to do these cosplay?
-I love the series and I chose Gunter because not only is he my favourite character from it, but I felt his all white unifrom would look stunning as part of a winter photoshoot. (I live in Canada and we have a lot of winter) I searched a long time to find the perfect light silver purple tone for his hair and even dyed a wig myself but was not happy. Epiccosplay finally surprised me by having it in the right length and style too all ready to go! The subtle silver purple hair colour makes all the difference against all that white. It just wouldn't be Gunter without it.
What got you into cosplay?
-I moved from historical reinactment and renfaire costumes that were becoming boring for me to the workmanship challenge of paying tribute to my favourite science fiction and fantasy characters by bringing them to life.
Why do you love cosplay?
-the sense of fun and community that I can share with other cosplayers and always pushing the creative limits of what I can achieve
Valentines day theme
-ever a romantic at heart Lord Gunter seeks his one true love, bringing a gift from the palace greenhouse, a sweet pink rose for the one who has captured his endless devotion.
photographer: Chibi-Bara
photo shop notes: white rose tinted pink in photoshop, brightness and contrast fixed