Cosplayer:
Vividly Straight
Instagram:
VividlyStraight
EpicCosplay Wig: Asteria in Ice Blue  for Tapu Fini cosplay from Pokemon
Check out this incredible Tapu Fini cosplay by Vividly Straight! Because the official Tapu Fini design is already somewhat anthropomorphic, this character is a perfect candidate for gijinka cosplay styles. Gijinka is the practice of giving human-like qualities to non-human characters and concepts. This cosplay retains the features that make Tapu Fini recognizable but grants a creative twist – certainly a truly successful gijinka all around.
Vividly Straight gives a few details about this cosplay below. Then, keep reading after the photo to learn even more about the featured wig.
For this outfit I had an idea of an warrior/ guardain of Poni Island while trying to stick close to the design of this pokemon
I wore this outfit for Wondercon in 2018.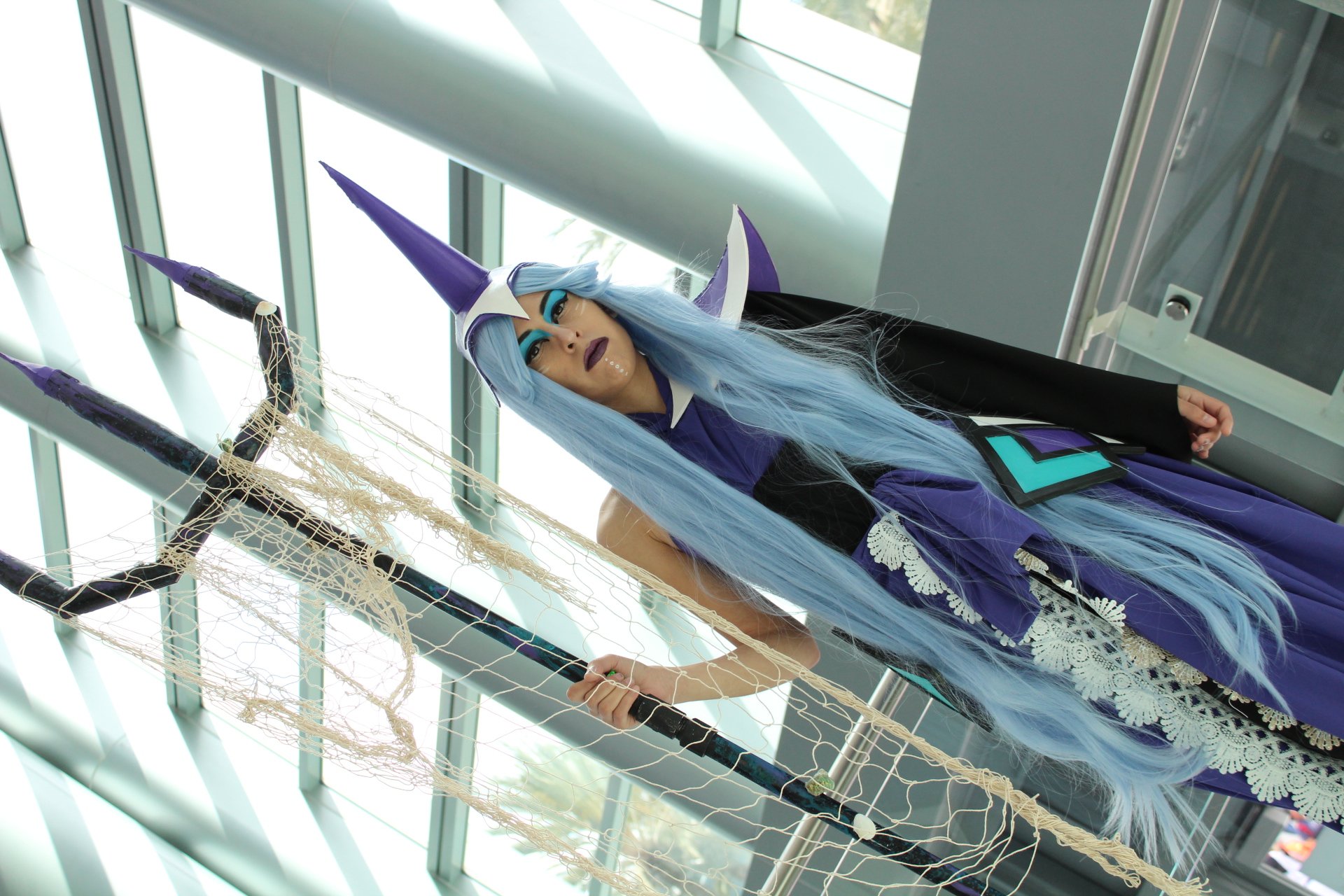 Behind the Style: Tapu Fini Cosplay Wig
Featured cosplayer Vividly Straight used the Asteria wig from EpicCosplay as a base for this style. Asteria is one of the longest wigs available from EpicCosplay, measuring at an impressive 50 inches in length. In fact, it measures to just above the knees on many wearers! The bangs are quite long too, pre-cut at 7 inches. To make this wig perfect for a Tapu Fini cosplay, Vividly Straight chose to flip the bangs outward to mimic the shape of the Pokémon's flowing locks.
The color, Ice Blue, is a fantastic match for the official character artwork. If you are curious about whether this color would be a good match for your own Tapu Fini cosplay, consider investing in an inexpensive wig color sample from EpicCosplay for comparison. If you are planning to cosplay a different character, Asteria is available in a wide range of other hues as well. EpicCosplay offers this wig in every color of the rainbow!
Are you looking for styling tutorials or wig care tips for your next cosplay? Take some time to explore the tutorial section on the EpicCosplay blog. Here, you'll find a wealth of information to take your wig game to the next level. Good luck and happy cosplaying!