Our team is excited to introduce our 'EpicCosplay Community Angels' program! This is a program that honors cosplayers who go above and beyond for the community!
Our December Angel is 'Misa on Wheels'!
Misa was nominated by staff for continually encouraging the cosplay community and promoting the positive message that cosplay is a hobby for everyone regardless of skill, ethnicity, body type, and age.
From Misa's bio online:
"Misa on Wheels is New England's most notable cosplayer on wheels! She believes that anyone can do anything they put their mind to and make their dreams come true!"
We at EpicCosplay couldn't agree more!
Misa often posts pictures with inspirational messages that promote fun and inclusive cosplay. Her facebook page has grown into a rallying point for the message of acceptance in the cosplay community. You may have seen Misa's 'Cosplay is for Everyone' images circulating in your facebook feed from time to time. Here are some of our favorites: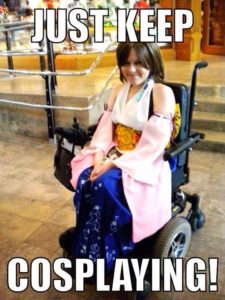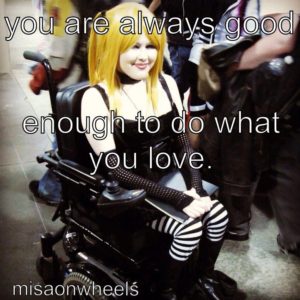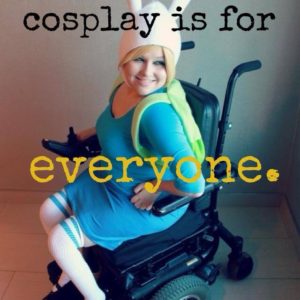 Misa's inner and outer beauty shines in her many costumes. Check out some of her work as a cosplayer!
Even her cat cosplays!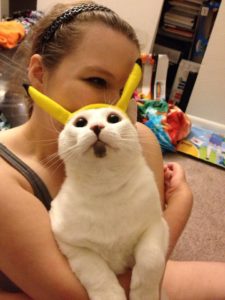 What's particularly wonderful about Misa is that she is willing to put herself out there in a community that at times can be harsh. Misa is a breath of fresh air in the cosplay community when hypercritical attitudes and mainstream exposure are mixing things up. We all could learn a few things from Misa (and I'm not just talking about how to dress your cat up like Pikachu!)
Visit her Facebook Page to keep track of what Misa is up to and share her positive message with your friends: https://www.facebook.com/MisaOnWheels/
Do you know a member of the cosplay community like Misa who goes above and beyond for their peers? Does this person contribute helpful tutorials, reviews, reach out to new cosplayers, do charity work or inspire others in some way? If you know a person who is a positive force in our community and want to see them recognized for the contributions they make, here are our submission guidelines.