befu, James, and V entered our April Fool's Contest as Szayel Aporro Granz, Noitra, and Orihime from Bleach! While none of these cosplayers used our wigs we have some great styles that you can use to cosplay as these characters! For a Szayel cosplay we recommend our Aura Wig in Cotton Candy Pink (color disocntinued). For a Noitra cosplay we recommend our Dionysus Wig in Black. For an Orihime cosplay we recommend checking out our Nyx Wig in Autumn Orange! Read on to see this trio's entry into our contest!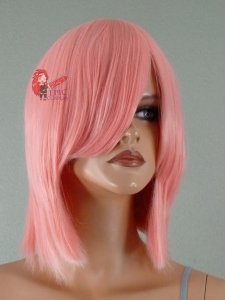 Name of cosplayers: befu, James, and V
Series that you are cosplaying from: Bleach
Characters you are cosplaying as: Szayel Aporro Granz, Noitra, Orihime
Did you use an EpicCosplay wig? If so, what style?: None are Epic.
What inspired you to do these cosplays?: Long story short, a bunch of miscommunications ended up making this Bleach cosplay group that ended up being around 10 different people.  But it ended up being awesome.
What got you into cosplay?: Being dragged to a con back in 2003. I always say that I'm going to cut back on the amount of costumes I make ever year, but it seems that I keep adding more and more!  Also, V. It's totally her fault.
Why do you love cosplay?:  Because it gives me a chance to figure out HOW things work.  Each costume requires a different set of skills, and I love being able to use my artistic ability to sew, sculpt, paint, or whatever is needed for a costume.  I keep trying to challenge myself with each new costume I do to improve my skills and the overall outcome of the costume. It makes me laugh, cry, bleed…but in the end I enjoy what I make and am proud to be able to wear something that I've made from scratch.
Describe what prank you are completing or what is going on in the photograph. (In other words, what makes your submission qualified for this contest). : James and I were taking serious "bad guy" photos and V decided to pop in/photobomb and make this photo be all sorts of special. Hense our "….ok?" looks.
If your photo does not demonstrate a prank, what prank(s) have you done in this costume?
Last minute entry, but I just remembered that I had this silly picture laying around!