Rachsaysmer entered our Valentine's Day Themed Contest as Charlotte the Dessert Witch from the series Puella Magi Madoka Magica! While she did not use one of our wigs for her cosplay we recommend that you use our Curly Ponytail Set in Princess Dark Pink for a similar look! This lovely entry took first in our Valentine's Themed Contest! Check out her entry below!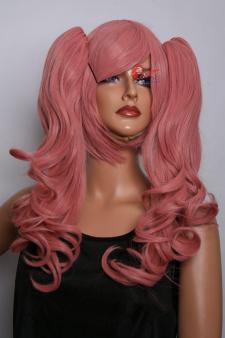 Your name:
Rachel also known as Rachsaysmer
Series that you are cosplaying from:
Puella Magi Madoka Magica
Character you are cosplaying as:
Charlotte the Dessert Witch
Did you use an EpicCosplay wig? If so, what style?
Sadly no.
What inspired you to do these cosplay?
For Charlotte I really loved the series but had a hard time choosing a character. I think in the end it was my love for her simple design and an excuse to pig out on sweets in costume.
What got you into cosplay?
I've always been crafty and liked sewing so after my first Anime Expo and I saw all these people in costume I was like "I can sew I should try" and it pretty much took off from there.
Why do you love cosplay?
There's a lot of reasons why I love cosplay. It's allowed me to improve on my skills with sewing, sculpting, painting, ect. which is awesome because it falls into my studies as a student. Plus it's such an inventive hobby. I don't think there's any other hobby where you can take random objects from the dollar store and turn it into an assault rifle or a weird accessory. It's also allowed me to make some really great friendships which I never would of formed without cosplaying. And it allows me to break out of my shy shell. When I'm in costume I'm someone completely different and it's a liberating feeling. I can walk up to someone, say 'hello' and strike up a conversation which I never would of been able to do without the confidence cosplaying gives me.
Jul 01, 2020

Category:

News
Comments: 0